What is Twixmas and Why is it the Perfect Time for a Christmas Break In the Lake District?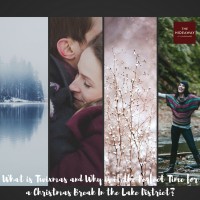 We've been making a bit of a song and dance out of Twixmas over the past few weeks, and that's because we feel people across the country are making one big mistake.
They're wasting it!
Twixmas gets it name from between, (betwixt) and describes the time between Christmas and New Year. Yet when people are tangled up with Christmas tinsel, they tend to fail to realise what a great time of year this is to get away.
Think about it.
You don't need to use any extra holidays beyond what you were already going to use, and you'll be able to make use of all the bank holidays, too - making your break feel extra long.
So what are you waiting for? You might as well get out there and explore all that life has to offer!
And these are the top reasons why you should be taking a Twixmas break in the Lake District over anywhere else…
1. You don't need to leave the country
Why bother will all the hassle of booking flights, holiday insurance, airport transport and more when you can simply hop in your car and head to the Lake District?
The Lake District is a holiday destination that's close enough that it's not stressful, yet still far enough away to make it feel like a distinct change from the mundane every day.
We also have fantastic transport links, and if you take the train to Windermere station you'll find us just a short five minute walk away - if that!
We have beautiful scenery on our doorstep in the UK, don't you think it's time that we made the most of it during our downtime?
2. You deserve some adventure
Christmas is a wonderful time of year, there's no denying that, but sometimes it can be a good idea to break out of tradition and do something a little different. And a break at The Hideaway during Twixmas will certainly allow you to do that!
Why not surprise your partner and do Christmas with a twist? You deserve something different this year - and you'll be glad you did when you're on a fresh, wintery walk around Lake Derwentwater, or perhaps when you're having a tour of one of the many breweries in the area. In fact, if you're looking for Twixmas inspo, we have a blog all about it right here too.
3. It could be the perfect time to pop the big question
What's more romantic than a Christmas proposal? A Twixmas break is the perfect time to pop the big question, and during your stay with us we can supply rose petals on your bed, chocolate dipped strawberries, champagne, and even a cake if you so desire! Make it your most magical Christmas yet. We're certain you deserve it.
But remember, the big question doesn't just have to be about marriage. You could celebrate renewing your vows, or even take a minimoon here. There are just so many possibilities.
4. It's the ideal time to reconnect
Life is busy, especially around the festive period, and when you're caught up buying presents and writing out Christmas cards it's all too easy to ignore one another.
Well, a Christmas trip could change that.
Instead of becoming lethargic from all that turkey and spending your days at the Christmas retail sales wishing you were anywhere else, why not take a break from it all?
Our boutique hotel offers first-rate relaxation. In fact, we even give you free tea, coffee and cake each day you stay with us. Meaning that whilst everyone else is rushing around buying things they don't really need in the shops, you can kick back and enjoy one another's company in peace. And you can always nip to Windermere if you do fancy a bit of a wander.
5. You'll feel refreshed for the new year
Starting the new year tired is no way to start it at all - but what about starting 2017 feeling refreshed, excited, and ready for the year ahead?
A break at The Hideaway will really help you to relax, get some fresh air in your lungs, and head into the new year with the right mindset to succeed.
Our guests even have access to the Spa at the Macdonald Old England hotel, where you'll be able to enjoy the pool, thermal suite, rock sauna, ice room and treatment rooms - just make sure you book in advance if you fancy a treatment such as a facial or a massage!
Ready for a Twixmas escape?
It's time to treat yourself and take a break, and here at The Hideaway we're the perfect, boutique hotel destination that will ensure you can revel in relaxation, comfort and free cake!
Take a look here for our availability. We have some fantastic Christmas offers available so be sure you don't miss out.
To find out more about The Hideaway and discover our Lake District holiday hints and tips, be sure to follow us on Twitter and like our Facebook page. Also keep an eye on our offers page to secure a great deal on your next Lake District break.