Walking, Strolling and Hiking
With 5 of England's highest mountains, The Lake District offers a challange to the hardiest of walkers. For more information on the many mountain, fell and lakeside walks across Cumbria, go to Sprayway Family Walks.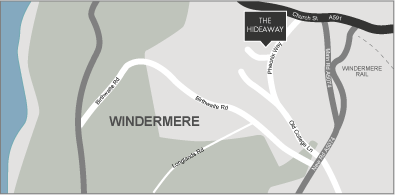 Leave the car behind at our boutique hotel in Windermere, there are some beautiful local walks which start from and finish at The Hideaway.
Orrest Head View Point
The foot of Orrest Head is just 5 minutes from The Hideaway a gentle 45 minute climb, rewarded with spectacular views of Lake Windermere and the Langdale Pikes.
Millerground and Adelaide Hill
A Lake shore walk, only 20 minutes walk from The Hideaway.
Brantfell & Post Knott
Ideal for after a morning Lake Cruise, a circular walk starting from the centre of Bowness, climbing Post Knott to a view point from which you can see nearly the whole of Lake Windermere and Claife Heights.

For more information on the 3 local walks visit www.windermere-walks.co.uk.