Your Magical Three Day Twixmas Itinerary At The Hideaway...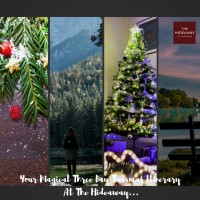 Whimsical walks in the woods, heart-warming cups of hot tea and coffee, and a boutique hotel to rest your head, a visit to the Lake District and a stay at The Hideaway is the perfect place for loved-up couples hoping to connect away from the pressures of everyday life.
And what better time to do this than during Twixmas?
Twixmas is the period between Christmas and New Year when everyone is full of turkey and chocolates, and the entire nation turns into festive couch potatoes whilst watching Home Alone.
Well, we think it's time better spent having an experience for the heart, mind and soul. So if you're wondering what a stay at The Hideaway would be like during Twixmas, we've put together a three-day itinerary to get you into the festive, holiday mood!
Wednesday 28

th December
After a busy Christmas with all the family, it's time to pack your bags! The Hideaway has car parking facilities and we're also incredibly close to Windermere station. So whether you'd like to travel by train or car we have the facilities you need.
1pm: After a leisurely morning making your way to the Lake District, it's time to check in to The Hideaway.
Your luxury room will await you, and whilst you settle in we'll prepare you a lovely tea or coffee, alongside a thick slab of our homemade cakes (festive eating isn't over just yet, is it?)
2pm: After you've settled in and enjoyed your cake, it's time to head out and explore what's on offer in the local area. One of our favorite things to do is to delve into nature with the fresh air whipping around you. There are plenty of places to go walking and a range of stately gardens for visitors to enjoy; however, we recommend a visit to Fell Foot Wood for your seasonal wanders where you can explore for hours amongst the crisp, winter woods.
5pm: When you're done visiting the woods, it's time for dinner. Why not head to The Golden Mountain Chinese Restaurant for a break from meats, potatoes and veggies? Their Chinese cuisine is second to none in Windermere!
Thursday 29th December
9am: After a great night's sleep, it's time to get your breakfast on at The Hideaway. Our fantastic menu caters to every taste and we have everything from traditional cooked English breakfasts through to continental delights. Make sure you fill your boots before another exciting day in the Lakes!
10am: As the previous day was spent outdoors, it's time to head inside. There are plenty of indoor attractions in the Lake District, and if you fancy immersing yourself in some Lakes culture we recommend a visit to Abbott Hall. They have some amazing artistic pieces on display, including work by John Ruskin. Brimming with 18th Century paintings, you won't know where to look next at this fabulous art gallery.
12pm: Many people who come to stay at The Hideaway love the chance to explore the spa. Although not on site, it's located at the MacDonald Old England Hotel which is just a short drive away. All you have to do is visit reception to reserve some passes, and you can even book in for some treatments too if you really fancy treating yourself during your Twixmas break.
The afternoon will fade away into background noise as you relax with your loved one deeper than ever before. Isn't taking some time out what Christmas is all about, really?
3pm: After a relaxing few hours, be sure to nip back to The Hideaway and fill your belly with free cake and coffee! A lazy afternoon relaxing with tasty treats and warming hot drinks at The Hideaway is exactly what the doctor ordered, and then it's time to start thinking about dinner.
6pm: Why not go all out and head to a Michelin-starred restaurant on your final evening? We have a fine selection in the Lake District, and we recommend that you book in advance to avoid disappointment.
One of the closest Michelin-starred restaurant to The Hideaway is L'Enclume. The menu changes all the time, so you won't know exactly what you'll be eating - but what you can guarantee is that it'll be absolutely amazing. Take a look at their website here to find out more. It's owned by renowned chefs Simon Rogan and Penny Tapsell.
10pm: After that, it's time to fall back into bed and relax once again. Each of our rooms is designed with your relaxation at the heart of them, and we do our best to make you feel extra special during your stay with us!
Friday 30th December
9am: It's coming to the end of your Hideaway stay, but there's still one whole day to enjoy! Once more you'll wake up to the smell of sizzling bacon and eggs as it drifts throughout our dining area, and we'll endeavor to provide you with another smashing breakfast at our boutique Lake District hotel.
Although you'll be waving goodbye to your luxury paradise, it's a nice thought knowing you'll be heading home to some wonderful New Year's Eve celebrations - and there's still so much to see and do on your final day.
10am: After breakfast, why not head down towards Lake Windermere and spend some time exploring our wonderful shops? There are so many independent traders, so if you know someone with a birthday during January it's the perfect time to pick up some gifts.
12pm: Whilst there why not head out for an afternoon tea, too? Round of your holiday with scrummy cakes, delicate scones and perfect crust less sandwiches. We've pulled together a lovely list of the best local afternoon teas right here – you'll be spoilt for choice!
1pm: Finally, there's just a little more time to do something incredible with your Twixmas stay, so why not head to one of the most famous lakes in the area, Derwentwater?
As a matter of fact, you might have seen this water on the big screen before as Derwentwater actually featured in the 2015 Star Wars: The Force Awakens. Set out on a walk around these magnificent views and create a magical story all of your own. It's the perfect way to feel refreshed before heading home with a rejuvenated mind, body and soul.
If a Twixmas stay sounds like the perfect way to wrap up your 2016, be sure to take a look at our availability. We do everything we can to ensure you have such a wonderful stay at our property and we even offer little extras like strawberries dipped in chocolate, or some champagne for a small charge.
We hope to see you soon during the festive period!
Intrigued to find out more about The Hideaway? Follow us on Twitter and Facebook to keep up to date with all our latest news and deals.