Warming Pubs For Wintery Afternoons In The Lake District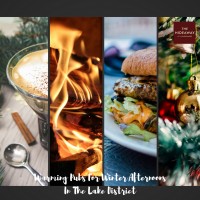 As the first inch of sparkling frost settles itself across Cumbria, and people start tugging out their scarfs and gloves, our hearts are captivated by winter once again.
A time for reconnecting with loved ones, belly-warming ciders and snuggly wooly jumpers, winter is the ideal backdrop for chilly afternoons spent with a loved one in a rustic, British pub.
We have a range of pubs local to us in Windermere, and each one is a homely tribute to what the quintessential English pub is all about. So if you're looking for a heart-warming afternoon spent beside the fire, the pubs we've collected in this blog will be perfect for you.
1. The Queen's Pub
Located on Victoria Street, The Queen's Pub is just a short walk from The Hideaway.
This traditional English pub benefits from rustically, charming decor, as well as stomach-stuffing pub grub, perfect to warm the cockles of your soul.
There are screens and sports tables available if you fancy a game of pool, and as the wintery chill settles outdoors, you can rest assured that you'll be warm and cosy inside this gem of a pub.
An afternoon is easily whittled away at The Queen's Pub, and because it's only a 2 minute drive and a 5 minute walk, it's the perfect place for our guests to visit!
2. Brookside Inn
Image Sourced From Google Local
A favourite with both locals and visitors like, the Brookside Inn is a fantastic, local pub - perfect for hiding from the cold.
Relaxation is the aim of the game at this establishment, and they also pride themselves on their fantastic food which always earns great reviews on Tripadvisor.
Serving all the classic pub grub meals from lasagna to roasts, for a cosy afternoon escaping the chill of winter, you won't go wrong with a visit to the Brookside Inn. The pub is a 10 minute walk and 5 minute drive from The Hideaway, so pull on your warmest coat and head on over for a wonderful, winter's afternoon!
3. The Village Inn
For a modern twist on the traditional pub, the Village Inn Bar and Grill should be top of your warming pub list.
Modern decor interspersed with taste-bud tingling cocktails and meals makes the Village Inn a
standout
, homely pub destination.
They tend to get busy at peak times, so be sure to book ahead if you're planning to visit for food. Yet with such attentive staff, the atmosphere really is delightful whether it's busy or not.
The Village Inn is located just a 26 minute walk from the Hideaway and a 7 minute drive, making it ideal if you also fancy a wintery walk, too.
4. The Albert
Image sourced from www.robinsonsbrewery.com
If you're looking for somewhere to grab a spot of Sunday lunch during the colder months of the year, The Albert in Bowness-on-Windermere is a friendly pub with a delightful atmosphere that you'll adore - and that's without even mentioning the splendid food and drinks.
Food portions at The Albert are plentiful, which means that you can delight in their comforting food that makes Winter that little bit more magical without breaking the bank.
From warming soups to succulent burgers, the menu is a delight to behold and will ensure you're full to the brim with tasty food.
The Albert is also close to The Hideaway and is just a 24-minute walk and 5-minute drive. It's also near Lake Windermere, making it the perfect base if you fancy a wintery amble around one the most famous lakes in Cumbria.
5. The Hole in T'wall
Lastly, we turn our attention to The Hole In T'wall for our final, homely pub.
Every part of this traditional pub is full of character, and this makes it a wonderful place to spend an afternoon. The staff at this establishment also go above and beyond to provide a fantastic level of service to all visitors, and they have a brilliant collection of ales to enjoy.
This pub is just back off of a main road, making it a quieter option for those visiting the area. The food and drinks also have great prices, and the ample food portions are perfect for those looking for some hot food to warm themselves up.
The Hole In T'wall is also close to The Hideaway and is a 5-minute car drive or 25-minute walk, so what are you waiting for?
The Hideaway At Windermere
If you're looking for a cosy hotel for your wintery Lake District visit, you simply must take a look at our availability here at The Hideaway.
Our boutique hotel is fantastic for those hoping to escape the every-day humdrum of life and experience a magical, winter break.
Take a look here to explore our availability. You can also call our friendly staff on 01539 443 070 to find out more. If you're looking for take a holiday in December, why not explore our Twixmas availability? Between the 26th and 30th is the perfect time to escape and have a Hideaway adventure! Read more about Twixmas here.