8 Reasons Why You Should Visit The Lake District For New Year's Eve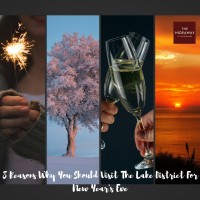 New Year's Eve is one of the most romantic dates in the calendar.
Whether you spend it alone with your partner, or head out to a party, when the clock hits midnight it feels more important than ever to have your loved one by your side.
But is it time you did something a little different this year to make your NYE even more magical?
We have some amazing NYE offers on here at The Hideaway so that you and your loved one can escape and start 2017 fully rested. We only have limited rooms left, so be sure to book before they're all gone!
1. It's time to recharge
One of the main reasons people go on holiday is to take a break from the humdrum of everyday life - and a stay at The Hideaway this NYE certainly provides that!
Our cosy B&B is nestled in the heart of Windermere, and we ensure each and every one of our guests has a tranquil and relaxing escape.
So if you fancy charging those batteries before heading into 2017, you certainly need a break on one of the most exciting weekends of the year.
Did you know that we also have spa passes available? When you stay with us you also get access to the luxury spa at the MacDonald Old England Hotel in Bowness.
2. There's so much to see and do
Just because it's new year doesn't mean facilities will be closed. There's still plenty to see and do here in Cumbria. How about a romantic cruise on Lake Windermere? Alternatively, what about a trip the Theatre by the Lake?
A popular visitor attraction, The World of Beatrix Potter opens over the holiday period and that's without mentioning all the natural sights to see such as walking trails which you can find out more about on our blog here.
Your holiday can be packed full of activity, that is, if you so wish it to be...
3. It's romantic
At The Hideaway, we pride ourselves in providing couples around the world with the chance to escape to a romantic, boutique hotel.
We offer everything from rose petal scattering to strawberries dipped in chocolate - and whatever romantic extras you choose, you can be sure we'll deliver the ultimate loved-up experience!
For a romantic evening out, why not head over to Castlerigg Stone Circle and watch the sun set? This atmospheric, English-Heritage site will leave you and your loved one feeling closer than ever before.
Escaping to The Hideaway will allow you and your loved one to have the most romantic NYE that you've ever had. Moreover, why not opt for some champagne too to celebrate the holiday?
4. It provides time to reflect
New Year is all about reflecting on the year that's gone before, and with an escape to The Hideaway you'll be able to do this without any distractions.
Why not make a list about what went well and what areas could have gone better during 2016? If you can look back at times when things didn't go to plan during the previous year, then there might be some important lessons to learn for an even better 2017.
5. You'll get to see some truly wonderful sights

There are few things more beautiful that the Lake District during the cooler months. As the trees lose their leaves and the sparkling frost settles over the homes of our beautiful wintery wildlife, including red squirrels, no time of year matches the naturally majestic feel of winter.
Why not head out on one of the many walks around the area? As your breath puffs out in clouds around your head and your nose turns a rosy red colour, you'll feel more refreshed than you have in months
6. You'll start the new year happy and in the right frame of mind
With a chance to clear your mind on a Hideaway break, you can be sure that you'll start 2017 feeling fresh and rejuvenated. A break allows you to switch off from all or real-life's little niggles and also provides some perspective. You'll feel ready to start 2017 with a spring in your step after a break in the Lakes!
7. You can take a moment to start planning your goals for the year ahead
Whilst reflecting, it can also be a good idea to start planning your goals for 2017 too. Forbes.com recently reported that study from by Gail Matthews at the Dominican University proved that those who wrote down their goals were more likely to achieve them.
8. Complimentary coffee and cake!
Is there anything better than getting something for free - especially when it's homemade cakes of offer?
We thought not - which is why we give free cakes and tea or coffee to guest every day they stay with us. Start the year right with a supply of yummy baked goods with us here at The Hideaway, prepared by our very own Lisa. And if you'd like to find out more about Lisa's baking adventures, why not take a look at our latest blog right here and discover her best baking tips!
The Hideaway At Windermere
We hope you've found a reason to join us for New Year's Eve at The Hideaway, we'd love to welcome you into our boutique hotel so that 2016 goes out with a bang!
To check out our availability, take a look here. You can also explore our luxurious rooms on our website if you'd like to see what life at The Hideaway is all about.