Move Over, Mary Berry! Here Are Lisa's Top Baking Tips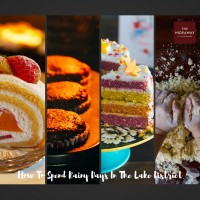 When it comes to baking, everyone has their own special methods that they use to create magnificent cakes and bakes. And so too does the Hideaway's Lisa!
If you've been to The Hideaway before, then you'll know that we offer freshly baked cakes and coffee each day you stay with us - and Lisa loves to bake up a storm in the kitchen!
In our latest Hideaway blog, we discover some of Lisa's baking secrets that guarantee a top bake every time.
So grab a slice of whatever's in the cupboard, kick back, and relax.
1. Repurpose Your Ice Cream Scooper
Ice cream scoopers aren't just useful for spooning large bundles of frozen creamy delight into a bowl for your pudding. They're also really useful in baking. Lisa recommends using an ice cream scoop to accurately measure your cupcake mixture into your cases, and this results in perfectly uniformed cupcakes each and every time!
2. Relax
Sometimes, baking can be stressful. When the icing doesn't go right, or the cake doesn't rise, things going wrong can be frustrating. But to reduce the chance of this happening, Lisa recommends that you remain as relaxed as possible during your baking experience. Whether you want to listen to some music, or want to wait until you're in the house on your own, creating the right ambience for your baking experience is crucial to cooking up something amazing.
3. Take your time
Another thing bakers can sometimes do is rush the whole experience. But when you rush anything in life, it usually doesn't end well. This is also true when you're putting things together to go into the oven - we've seen it happen on the likes of The Great British Bake Off when people throw salt in instead of sugar, for example, Lisa recommends that you take your time more and think more carefully about what you're doing. It can help you avoid simple mistakes, and the baking experience will become more enjoyable.
4. Invest in quality cooking utensils
It can be tempting to opt for the cheapest utensils you can get your hands on - baking is an expensive hobby, after all - but Lisa recommends investing in tools that will last. This is because you get what you pay for, i.e., icing bags that are cheap usually break easily, and having a handy mixer to hand can really be a lifesaver when it comes to all that arm ache from mixing!
They don't have to be top of the range, but if you often bake and want to have more successes than messes, investing in top quality baking utensils can be a lifesaver.
5. Buy in Bulk
We've already alluded to baking expenditure, but Lisa recommends that nipping to retailers such as Costco and buying in bulk can help you to save money.
It might seem cheaper on the face to go with a smaller bag of flour rather than investing in the larger, more expensive choice - but remember to consider whether you could be getting a better value for money for buying bigger. You'll usually find it's cheaper to go large as opposed to constantly buying smaller bags - especially if you're going to be baking on a regular basis.
6. Always follow a recipe
It can be tempting to go off on your own into the wild world of baking, but Lisa highly recommends that you find a recipe and stick to it. This is because it's so easy to get things wrong. Adding too much baking soda, for example, or perhaps not enough can both easily occur if you're not following a recipe - and it can change the look of a cake or bake drastically.
We're not saying don't experiment full stop, but what we are saying is that if you're baking for guests that evening, it's probably not the time to be throwing extra flour or sugar into an already perfect cake mix!
7. Know Your Oven
Everyone's ovens are different, so Lisa recommends that if you're baking something new for the first time, it's always important to keep checking your bake - (although you shouldn't open it until it's over halfway through the bake time or else your cake might not rise enough)! A top tip is to check your bake ten minutes before the total baking time on the recipe to make sure there's no inconsistent baking.
That way, if there is, you'll be able to adapt your oven before the bake is ruined.
The Hideaway & You
That's it for Lisa's fantastic baking tips, but if you fancy a stay at the Hideaway and a slice of our lovely cake each and every day you stay with us, why not check what rooms we have available?
We're gearing up for winter right now, and it's one of the most wonderful times to visit the Lake District with our amazing natural scenery and festive Christmas events.
If you have any Hideaway questions or queries, give us a call on 01539 443 070 to find out more. Our lovely Lisa and Richard would adore the chance to guide you with your Hideaway stay!